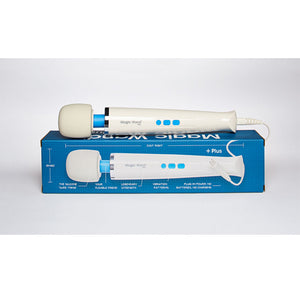 Magic Wand Plus
Regular price $82.99 Sale
Get the soothing pleasure you crave with Magic Wand PLUS The Original Personal Massager by Vibratex. Designed for full body massage, for newbies to power queens, Magic Wand PLUS features plug-in power you can trust and variable speed vibrations settings to send you over the edge.
A soft, smooth silicone head and flexible neck seek out every outer hot spot easily and ease tired, aching muscles when you require a full-body sensual massage. Perfect for those with limited flexibility and reach, Magic Wand PLUS by Vibratex makes sensory play accessible, satisfying and oh-so sexy.
The classic corded design disassembles for easy storage and an immediate Off-On switch keeps you in control of your discretions. Choose your setting from 4 level intensities, and enjoy formidable, uninterrupted power with The ORIGINAL Personal Massager!
Magic Wand PLUS provides the powerful, penetrating vibrations wand-lovers cherish in the classic shape we`ve all come to love over the last 50+ years. Set includes Vibratex vibrator and plug-in power cord to bring the buzz. Measures: 12.25 inches x 2.25 inches (31 cm x 6 cm).