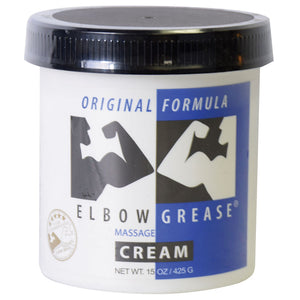 Elbow Grease Original Cream 15oz Jar
Regular price $32.00 Sale
Safe, long lasting premium lubricant
Enhance your sensual experience
Odorless formula
The All-American Lubricant - As American as apple pie - Even your mother told you to use it!
A safe, long lasting premium lubricant specifically designed to enhance your sensual experience. Manufactured to strict standards for quality and performance. Odorless.
Apply as needed to the area you wish to lubricate.  If irritation occurs, discontinue use immediately.
Elbow Grease Original is extremely slippery.  Clean spills immediately.  This product is not recommended for use with condoms.
Water, Mineral Oil, Paraffin, Sorbitan Stearate, Petrolatum, Cetearyl Alcohol, Ceteareth-20, Cetyl Alcohol, Disodium EDTA, Lanolin, Polysorbate 60, Sodium Borate, Stearic Acid, Triethanolamine, Methylparaben, Propylparaben